Employee Training Solutions

"What happens if you train people, and they leave? What happens if you don't train them, and they stay?"  -anonymous
Learning Management. Done Right.
Quality employee training is integral to the success of your company, that's where we come in. As the trusted name in quality training, we recognize that successful companies have a higher percentage of employees who report that being well-trained makes them more content and confident in their jobs. We designed our Learning Management System (LMS) to capitalize on that fact,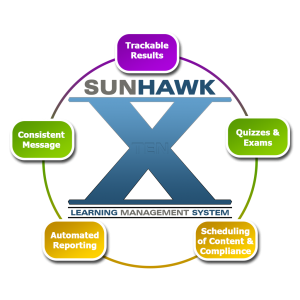 and it is the tool you need to build an exceptional team.
Platform Learning Delivery and Management Tools
Platform Learning Management Features
Access to updated industry specific e-learning modules
Centralized dashboards for manager and trainees
Hierarchy, groups and role based management
Real time performance, utilization and result reporting
Automated group and individual user enrollments
Instant quiz and exam grading and online certificates
Training plan management and module bundling
Custom branding available
Employee Training. Simplified.
Our LMS offers several solutions to help you implement an efficient, consistent and cost-effective employee training program that will build value in your team and fit the needs of your business.
Career Progression™
A more extensive solution is our Career Progression™ program. This solution is industry specific and can be customized to fit your exact need. Our Career Progression™ program is currently available for the convenience and restaurant industries.
Convenience Store TrainingRestaurant Employee Training
Learning Library
Our Learning Library is an ever-growing collection of courses designed to streamline your current employee training program, and they are Ready-To-Go. The modules in the library include both industry specific and non-industry specific content. All modules in the learning library are compatible with our Career Progression™ program.
If you need training "on the double" — look no further than our Ready-To-Go Learning Library — the easy way to implement your training in a hurry. Choose the modules you want included in your program from our Learning Library, and you will be up and running in days.
Custom Production
Our Custom Production team is in-house–and available for your unique training needs. Our team has many years of combined experience to accommodate any training challenge. Custom Production training modules can be used in the Career Progression™ program.